---
THIS PAGE HAS BEEN ARCHIVED FROM VALIANTFANS.COM OR VALIANTCOMICS.COM BETWEEN 1999 AND 2014
OLDER CODE MAY CAUSE THE PAGE TO DISPLAY INCORRECTLY - WE APOLOGIZE FOR ANY INCONVENIENCE

---

Magnus #1 through #8 Coupons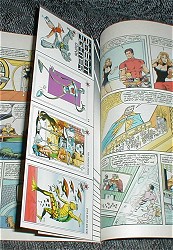 Magnus issues #1 through #8 were originally produced with a sheet of trading cards
bound inside, including a coupon printed for the sendaway version of Magnus #0.
The cardboard sheet was stapled into the center of the comic, and shows
3 character trading cards, and a 4th card that is a coupon for Magnus #0.

Because 5,000 to 10,000 copies of Magnus #0 were printed for the coupon offer,
there are at least that many copies of Magnus #1 through #8 with the coupons
cut out of the comic.

Buyers of Magnus issues #1 through #8 are very interested to know
if the card sheet and coupon are still uncut inside the comic.
Because any use of scissors on a comic book can be considered as damage
to the condition of the book, the value is greatly affected by the coupon.
If the coupon is missing, Magnus issues #1 through #8 rarely sell for more
than $1 to $2, since they are still good for reading, but damaged as collectibles.

A similar coupon program was implemented inside Harbinger issues #1 through #6.